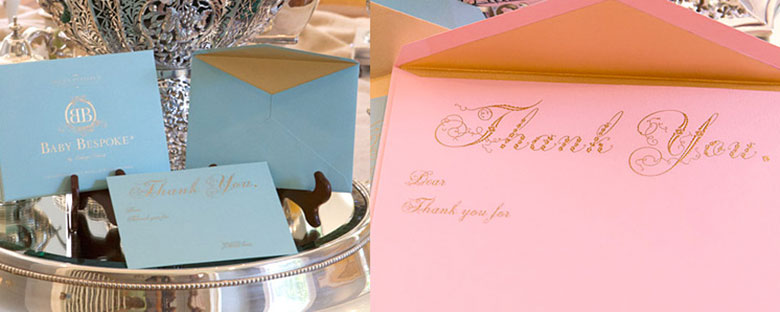 Gold Engraved Thank You Notes
Shop until midnight on April 16
An Exclusive Collaboration with the oh-so talented Alexa Pulitzer of New Orleans...this has to be the loveliest way to write a true handwritten note, when on a tight schedule!
A perfect gift for a new Mother...or anyone wanting to send a quality hand, engraved Thank You note.
Engraved outer folio includes 8 hand-engraved note cards, and 8 matching, gold-lined envelopes.
 "Giving a unique gift for a baby's first year is all about thoughtful attention to detail and exceptional quality," said Kathryn Beach, president and designer of Baby Bespoke by Kathryn Beach. "New mothers now have a way to acknowledge receipt of such gifts with stationery that is just as special, with the added bonus of efficiency!"